DN600 PN16 Metal Seated Pneumatic OP. Ball Valve
TEJI's new order DN600 PN16 Metal Seated Ball Valve with Pneumatic OP. was successfully finished today, it passed standard testing acc. to API6D, and it opened smoothly via Pneumatic Actuator, which proved perfect sealing of our metal seated ball valve, it will delivered to our Russia Customer soon and put into large natural gas project.
The valve body for this order is forging. Compared to casting, it's mechanical property is much more stable and reliable under the working condition of gas medium at minus 60 degrees. All of the workpiece was machined by CNC lathe and machining center, which ensures the shape, position tolerance, and accuracy of the workpiece. In addition, the ball and valve seat products adopt: cemented carbide spraying technology, the sealing surface hardness is high, wear-resisting, high temperature resistance, erosion resistance, and other excellent characteristics.
The finished product test after assembly simulated the gas working condition of the user. After nitrogen high-pressure gas test, the hard contact sealing surface reached the standard of zero leakage.
●Structure and characteristics of side entry ball valve
1)Automatic Reduction of body cavity pressure:
The Sealing system design in ball valves automatically allows the release the excessive body cavity pressure into lower pipe pressure side in cased of pressure differences greater than 10bars.
2)Bi-diretional sealing system:
The special sealing system of ball valves assures the inlet and outlet side tightness of body cavity. In case of failure of either gasket, the remaining sealing provides the tightness of the body cavity. The double sealing system of Trunnion type ball valves includes a PTFE insert besides the specially formed elastomer sealing element, which also fulfills the bearing function between the ball and the seat ring. Furthermore, it protects the gasket from failures caused by solid particles and by the erosion of the following medium.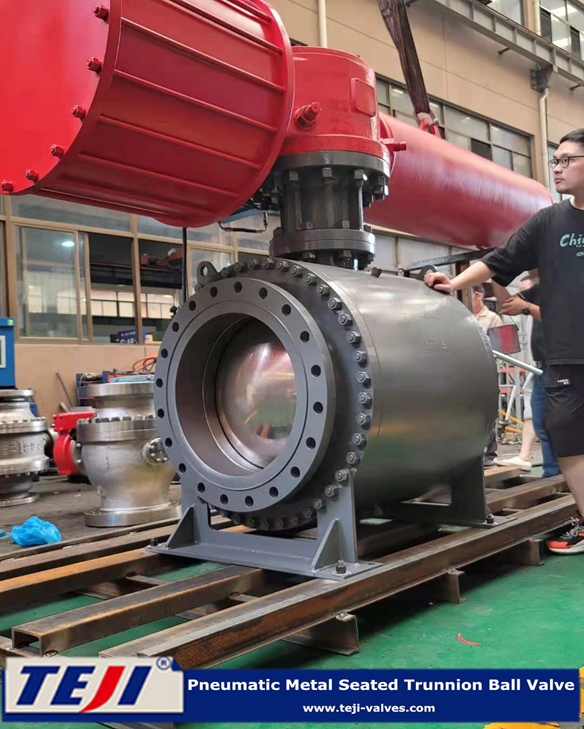 3)Double Sealing System at the driving stem:
Two sealing elements assure the sealing of the driving stem into the direction of the ambient area. In case of failure, the second element can be changed without disassembling the ball valve after depressurization. Besides the primary O-ring Gasket, the sealing of the driving stem of trunnion type ball valve is assured with the plasticity assisted PTFE profile gasket. In case of leakage to the ambient the sealing function can be restored by setting of the adjusting screw.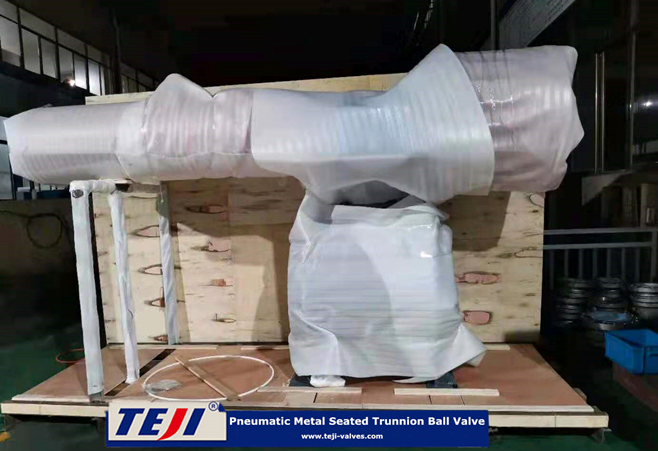 ●Standard Feature of TEJI Trunnion Ball Valves:
1)Full compliance with NACE MR-01-75.
2)Extra care to maintain highest smoothness of ball surface to provide superior quality of operation with lowest torque.
3)Heavy Duty anti-blow out proof stem for easy adoption to actuation.
4)Double block and bleed design.
5)Sealant injection facility with Non-return fittings(Optional)
6)Fire Safe design acc. to API607
7)Double Seal Design.
8)ISO 5211 standard mounting pads.
9)Lowest Operating Torque Value.
10)Both Casting Body and Forged Body available.