Product Detail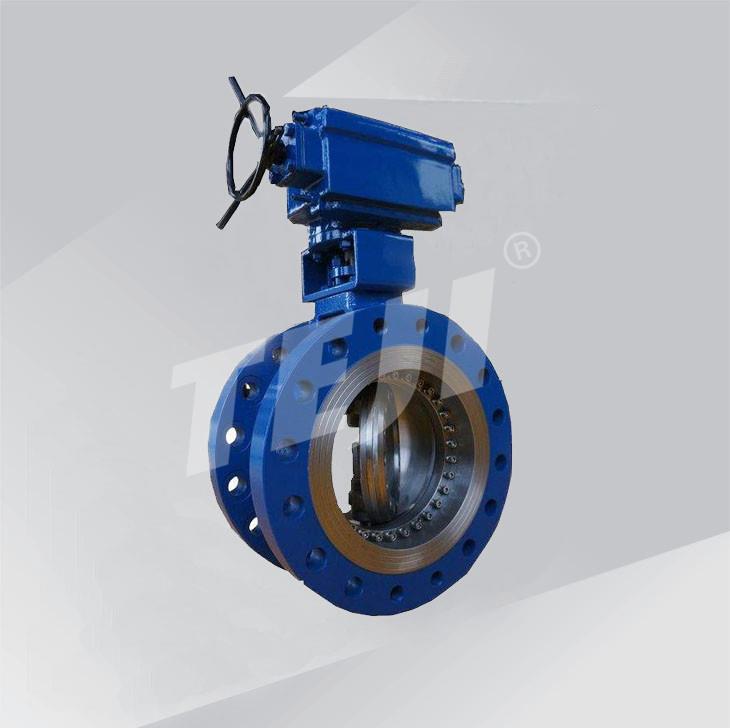 Electric Triple Offset Butterfly Valve
● Model: D943H, D973H
● Size: 2"~48"
● Pressure Rating: Class150~600LB
● Main Materials: WCB, LCB, CF8, CF8M
The electric triple eccentric butterfly valve adopts a three-dimensional eccentric structure, and has the advantages of strong applicability, small torque force, less friction, and good sealing performance. When the electric triple eccentric butterfly valve is opened, the disc will instantly separates the sealing surface of the seat, which reduces friction and interference with the sealing surface, and greatly improves the service life of the butterfly valve. Moreover, the electric triple eccentric butterfly valve disc and the seat sealing surface are made of stainless steel, so that the butterfly valve has reliable guarantee of corrosion resistance, temperature resistance, pressure resistance and wear resistance, and is a high-performance energy-saving electric butterfly valve.
The application range of the triple-eccentric disc valve can withstand pressure up to 2500 LB, temperature resistance as low as -196 ℃, as high as 700 ℃, seal reaches 0 leakage, regulation ratio up to 100:1 or more. That is to say, on all kinds of severe and critical process control pipelines, whether it is an on-off valve or a control valve, as long as the type is properly selected, the disc valve can now be used with confidence and low cost.
Specification:
● Model: D943H, D973H
● Size: 2"~48"
● Pressure Rating: Class150~600LB
● Main Materials: WCB, LCB, CF8, CF8M
● Seals: Soft Seal or Metal Seal
● Suitable Temperature: -40~450℃
● Design and Manufacture: API 609
● Face-to-Face: API609, ASME B16.10, ISO 5752
● Ends Connection: Flange, Wafer, Lug, Butt-Welded
● Inspection & Testing: API 598, EN12266
● Operation: Lever, Electric, Pneumatic, or Hydraulic etc.
Actuator:
● Supply Power: AC220V, AC380V
● Acting Range: 0-90°
● Device: Explosion-proof, can be equipped with manual device
● Control Type: On-off, or intelligent adjustment (4-20mA analog signal control).
Feature:
The electric triple eccentric butterfly valve has the dual features of metal sealing and elastic sealing. Excellent sealing performance regardless of low temperature or high temperature. Mainly used in petroleum, chemical, electric power, metallurgy, steel, paper, medicine, food, textile, light industry, etc.
Welcome to our website. If you have any requests or suggestions,please feel free to email us at teji@teji-valve.com or use the following enquiry form. Please allow us to provide you with the best service.